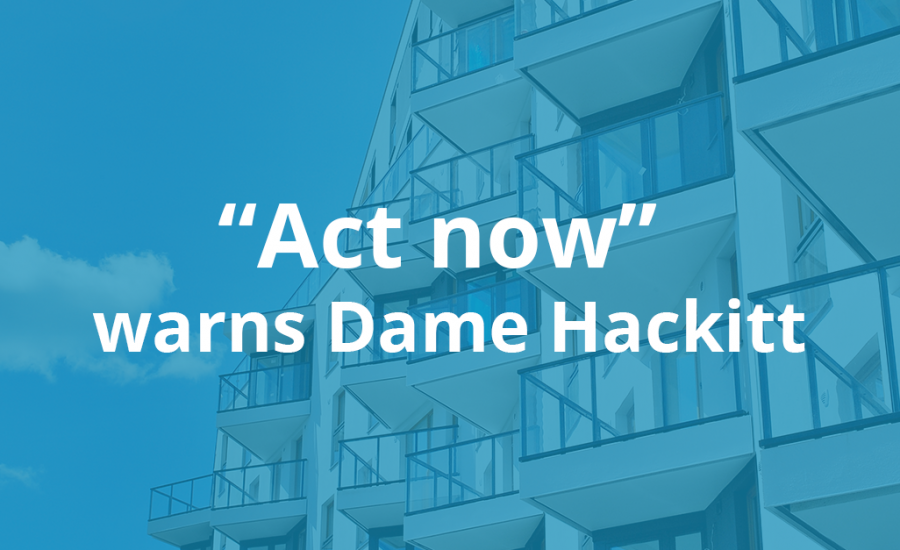 News
Building Safety Bill: Dame Hackitt warns industry to act now
Building Safety Bill changes should start now
Dame Judith Hackitt, who is chairing the board which is creating the new Building Safety Regulator, said construction firms "will not survive" new building regulations due to come into force in 2023 "unless senior staff start making changes now". She said: "The Building Safety Bill and the Fire Safety Order will bring a radical change in approach to building regulations and will drive that delivery of better, safer buildings."
She urged leaders to begin the process of change now, even before the legislation is finalised, as there is, "a significant number of the existing stock of buildings will require further remediation work beyond the current focus on replacement of cladding."
She told the Construction Leaders' Summit for the National Building Specification that it was "morally indefensible" to work on the assumption that if the legislation doesn't come into force until 2023, that leaves a period of two to three years before you really need to worry about this and about changes to current practices and behaviours. Hackitt told the audience: "Allow me to suggest to you that to do that is akin to going out on a big party on a night before lockdown in the current pandemic. You're knowingly taking a risk that you don't need to, and which you shouldn't, and you are ignoring the potential consequences."
"Allow me to suggest to you that to do that is akin to going out on a big party on a night before lockdown in the current pandemic."
The changes planned in the Building Safety Bill have been described by Robert Jenrick, the Secretary of State for Housing, Communities and Local Government, as "the biggest change in building safety for a generation." The changes proposed will require a step-change in the approach to the management and control of fire and structural risks in buildings.
Improved processes and digital golden thread
The main changes highlighted by Hackitt for business to focus on now were in the areas of improved fire management systems and digital record keeping.
New management processes to deliver safe outcomes
The requirements under the Building Safety Bill will need companies to have the right management procedures in place to ensure that safe outcomes are delivered. Dame Hackitt suggested businesses should: "Think of this in terms of workplace safety. You know it isn't enough to simply provide safety gear and to advise workers to follow procedures. You need to have management processes in place to ensure they wear the right gear, they do the job in the right way and that they are competent to do the jobs you ask them to do."
Digital Golden Thread for record-keeping
Under the new legislation, the onus will be on the companies to prove safety to the regulator. This will require companies to embrace technology to keep digital records, that can capture the information and actions that a regulator will want to see. Dame Hackitt identified this as one of the most pressing issues for businesses to tackle right now: "This requires new thinking and new approaches, as well as an urgent step-up in competencies and record-keeping across the industry. And record-keeping surely needs to be digital, doesn't it?"
"This requires new thinking and new approaches, as well as an urgent step-up in competencies and record-keeping across the industry."
Act now and stop waiting
To highlight the need to begin the change process now, Dame Hackitt gave business three positive benefits that would come from being seen as a "leader", rather than a "laggard" in implementing changes.
Implementing a competency framework will take time
To implement the new competency framework will take time to implement successfully. She said: "just over 2-years is not a very long time to address those competence requirements."
The market, and the regulator, will recognise the leaders
Dame Hackitt expects both the market and the regulator will recognise those companies that are demonstrably doing the right things, and adopt a leadership position in making changes, rather than being a laggard.
Regulator will be tougher on those that avoid their responsibilities
Dame Hackitt gave the industry a clear warning that "Smart regulators like the HSE and the new Building Safety Regulator work with those who are demonstrably doing the right thing, and who need support and advice to get it right. They are much tougher on those who seek to game the system or duck out of their legal and moral responsibilities."
For more information
To learn more about how to future-proof your business, visit our websites, or contact us for more information.
To learn more about how our Professional Services team can help create the right management processes, visit Ark Workplace Risk.
To learn more about how QUOODA can create a digital golden thread of information, contact us.